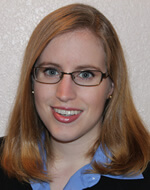 Melinda Schlinsog, Esq.
Attorney-at-Law
Education
Tulane University School of Law
New Orleans, LA
JD, 2014
Northwestern University
Evanston, IL
BA Political Science, 2011
BA English Literature, 2011
Bar Admissions
Colorado
2014
United States District Court for the District of Colorado
2015
Certifications
Petroleum Land Management Certificate
Meinders School of Business, Oklahoma City University
Professional Affiliations
Colorado Bar Association
First Judicial District Bar Association
Profile
Colorado attorney Melinda Schlinsog's practice emphasizes estate planning, probate, real estate, and corporate transactions. Before joining Douglas A. Turner, P.C., Melinda served as a judicial intern for two state judges in Louisiana and Colorado.
Melinda develops will and trust based estate plans by interacting with clients, assessing their assets and goals, and drafting estate planning and real estate documents to meet their needs. Melinda drafts revocable separate and joint trusts (including tax planning trusts), last will and testaments, financial and medical powers of attorney, and living wills. She has also assisted clients through probate proceedings involving intestate and testate estates, special administrations, guardianship and conservatorship proceedings.
Melinda has experience representing buyers and sellers in residential real estate transactions and drafting real property deeds. For several Colorado homeowner associations, she has also handled remedial actions, foreclosures, quiet title proceedings, and collections.
Melinda has grown up in Evergreen and still remains close to the community through her work as a coach for the Evergreen High School Mock Trial Team.
Published Articles:
Focusing on the Facts: Rosetta Stone Ltd. v. Google, Inc., Narrows Trademark Decisions to the Specifics, 15 TUL. J. TECH. & INTELL. PROP. 305 (2012).
Endermen, Creepers, and Copyright: The Bogeymen of User-Generated Content in Minecraft, 16 TUL.J. TECH. & INTELL. PROP. 185 (2013).
Community Involvement
Evergreen High School Mock Trial Team, Coach
Evergreen CO